What is Acupuncture, and how is it performed?
Watch our videos for a brief explanation of what acupuncture is and why it is helpful from our very own, Dr. Vlach.
Medical acupuncture is a system which can influence three areas of health:
Promotion of health and well-being

Prevention of illness

Treatment of various medical conditions
While acupuncture is often associated with pain control, in the hands of a well-trained practitioner it has much broader applications. Acupuncture can be effective as a sole treatment, or as the support or adjunct to other medical treatment forms in many medical and surgical disorders.
Post Register's "Best of 2018" for Acupuncture!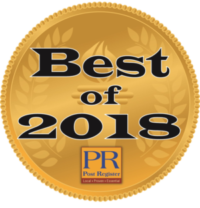 The World Health Organization recognizes the use of acupuncture in the treatment of a wide range of medical problems, including:
Digestive disorders: gastritis and hyperacidity, spastic colon, constipation, diarrhea.

Respiratory disorders: sinusitis, sore throat, bronchitis, asthma, recurrent chest infections.

Neurological and muscular disorders: headaches, facial tics, neck pain, rib neuritis, frozen shoulder, tennis elbow, various forms of tendinitis, low back pain, sciatica, osteoarthritis.

Urinary, menstrual, and reproductive problems.
Acupuncture is particularly useful in resolving physical problems related to tension and stress and emotional conditions.
Acupuncture Success Stories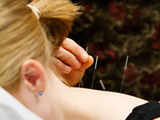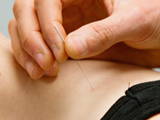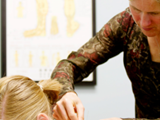 Back Pain
I came to Dr. Vlach in a lot of pain. I'd been having issues for about three years. I'd seen several doctors, had blood tests, x-rays and several MRI's. I was very depressed and losing hope. I could do none of my favorite activities. Now several months after my first visit, after PRP and acupuncture I have almost no pain if any on a daily basis and very little while doing activities. I am starting to return to the activities I enjoy. Thank you Dr. Vlach and the Eastern Idaho Spine and Sports Center!
Back Pain
I have had acupuncture for pain in my SI joint and lower back (arthritis, 2 bulging disks) for almost 5 months. The results have been remarkable. After 8 months of PT, massages, and 2 steroid injections the nerve pain had no subsided and my activities such as jogging were limited. After the first few acupuncture treatments I felt relief. I was able to resume outdoor activities such as skiing etc. Now I have rarely take an NSAID to relieve pain and discomfort and will increase the time between treatments. I was looking for a non-surgical / non-invasive method to help with the pain. The acupuncture, along with exercise and yoga, has helped immensely.
Acupuncture
On January 9, 2016, I broke my neck and was paralyzed from the neck down. The prognosis of me walking again was 10%. After extensive Physical and Occupational Therapy, I am now able to walk and use my arms. Eastern Idaho Spine, Sports and Rehab Center has been instrumental in my recovery by directing my therapy and treatments. One of my new treatments is acupuncture which has been very beneficial. K'Lynda Snarr has been performing the acupuncture on me. She is very professional and effective in performing the acupuncture to address my areas of concern. We sit down and discuss my body issues and she develops the treatment to address the issues. The treatments are very effective.