Here's my reflection on Oct 2014-October 2015 with a few highlights: It was a different year, most of it accompanied by fatigue, stress and multiple attempts to reignite my fire and desire for performance and racing, all of which eventually failed, at which point I finally realized I was not going to race this year and instead set some new (and astonishingly rewarding) goals. See below. I became extremely busy at work (I love my work and have great passion for helping people towards their best health and potential) but as work dominated I found myself unable to get out on the 3,4,5 hour runs that I was used to on a weekly basis. Or, when I did get out, I felt tired, worn down, and blah. One of the worst traits of doctors is they run all sorts of worst-case scenarios through their medically-trained brains, and so I wrestled with many phantom diagnoses as well. It turns out, as I mentioned in a previous post, I have asthma and once I got that under control most of my health problems cleared up. A supreme advantage of not doing the same things that you are used to doing are of course that you have time and energy freed up to do other things. I had three extremely satisfying adventures this summer and fall:
1. Old Faithful to Bechlar.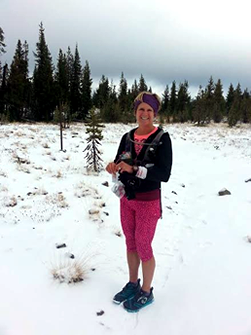 In mid-September, I completed a run I had dreamed about for years: 31 miles from Old Faithful to Bechlar Ranger Station. Bechlar is the far southwest entrance to Yellowstone National Park, seldom-visited, full of lush, enormous meadows, huge rivers, giant waterfalls, geysers and no people. I stumbled upon it when I first moved here 8 years ago, and remember seeing a sign that said: Old Faithful 31 miles. At the time, I was not an ultra runner and that seemed unfathomable to me, to be able to run that distance, but it planted a seed. As I developed as a runner, it began to seem possible, but every fall I had some big race planned, or I was injured or recovering or just too plain busy. This year, with not of a heck of a lot going on in a training schedule, I had time. It was worth the wait and delivered. My dear friend Cris and I had a spectacular day, took a leisurely pace, stopped at 15 miles and soaked in natural hot spring with geysers surrounding us. It was a 'fill your cup' kind of day and reminded me that I need long adventures in the wilderness, on a semi-regular basis to keep my spark going. Must be some genetic quirk.
2. Pacing at the Bear 100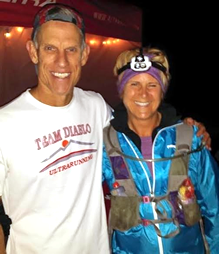 By mid-September I felt my core energy was back and I was itching to do something. I was not in 100-mile shape, but I still wanted to participate in the Bear 100 and so I volunteered on a facebook message board to be a pacer. I got a number of takers but chose Dan, a highly motivated and experienced runner from California. His determination shone through from the start, and I knew he had what it took to get to the finish line. It is a unique opportunity to meet a total stranger at 9:30 at night and guide them 38 miles, through the mountains at night, to the finish line. 100-mile races often produce a 'dark night of the soul' experience, and I am pretty sure anyone who has completed a 100-mile race would agree that it strips you down to your core self. To trust a stranger to take you through that journey takes a lot of faith and openness of spirit. Thank you Dan for trusting me. Dan was one of the most inspiring and determined runners I have met. He took a rough fall about 70 miles in his journey, bruising or perhaps cracking some ribs, and to be truthful, I thought we were likely done when we rolled into the 75 mile aid station. I think I, and most runners, no matter how determined at the start of the day, would have been done at that point. But Dan was unstoppable, I would dare say there was not even the thought of dropping in his mind (if there was he did not share it with me). So we trudged on, albeit at a slow pace. By mile 85, although I could tell he was determined to finish, I thought surely he had let go of his time goals. But no, he let me know that he still wanted to meet them, and so I turned into a military drill sergeant, cracked the whip, and we kept moving, moving, moving, steady on, and got him to finish line at his goal time. Even with bruised ribs and difficulty breathing! I learned a lot about mental toughness from Dan and the power of a determined mind.
3. Grand Canyon Rim-To-Rim-To-Rim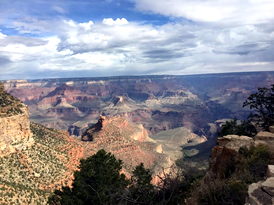 I was lucky enough to get invited on a fall R2R2R trip. Although I was excited to help celebrate my incredibly inspiring friend Vicki's 60th birthday, (may I be half as inspired and fit at 60!!!), this particularly ultrarunner classic had never been on my bucket list. I had heard rumors of a marching line of runners, up to 300 per day, and for a person who mostly enjoys running alone in vast unpopulated wilderness, that did not sound like my idea of a good time. There has been some recent very negative press about trail runners in the Grand Canyon (https://www.hcn.org/articles/grand-canyon-runners-are-missing-the-point) and while I was excited to be with girlfriends and to run 50 miles, I wasn't really sure it was my cup of tea. Of course, we had a spectacular day. Almost perfect weather, steady pace, great company. Vicki is unstoppable, rarely rests, is always ready to keep moving, moving, moving and so it is very easy for me to sync up with her. Interestingly, out of the perhaps 300+ people we saw out on the trails, most of course on the South Rim, I could not have seen more than 20 people tops running. The majority of folks out were dayhiking tourists from the South Rim, many backpackers and hikers, but almost no runners. So I am a bit baffled by the negative press and by the general p erception that the Grand Canyon is over-run with trail runners (http://www.irunfar.com/2015/10/the-grand-illusion.html). Did we just hit a good day? So, looking ahead, I have registered for the Bear 100...again. We will see if I make it to the starting line, but it will be a exceptional journey no matter what to get there. Keep moving, Sarah