Beautiful Fall Hikes Throughout Idaho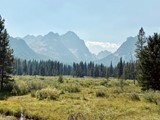 When we think of Idaho we envision the incredible landscape, towering pines and outdoor pursuits. It really is a wonderful place to find adventure in the wilderness.
Just outside our doorstep boasts countless opportunities to embrace the great outdoors. Let's look at some of the best hikes you can find in Idaho. Some of them may be a venture to get to, but if you're up to traveling, these hikes are worth it.
The Palisades Creek (Southeast Idaho)
Located about 50 miles southeast of Idaho Falls, this beautiful trail has become a hiking favorite. It's great all year round but is particularly spectacular during fall when the leaves are changing to beautiful autumnal colors.
For this reason, and many more, it is a great route for photo opportunities. You can make this hike as short or as long as you would like, as you can choose to hike to Lower Palisades Lake and Upper Palisades Lake, too. If you choose to head only to Lower Palisades you can expect the entire hike to take around four hours to complete.
As the trail isn't maintained, this hike is considered to be moderate in terms of difficulty, so be sure to take along hiking poles and wear good walking boots. Most of this hike hugs the creek, so you'll get beautiful views all the way along and be rewarded with breathtaking vistas at the end.
The Cress Creek Trail (Southeast Idaho)
If you are looking for a shorter hike and something with more stable terrain then the Cress Creek Trail might be for you. This nature trail is partly paved, and where the paved section ends, gravel takes its place, so it's a great option if you are recovering from an injury or looking for some gentle outdoor exercise.
Offering beautiful views of the South Fork of the Snake River, and the opportunity to see wildlife like deer, rabbits, small lizards, eagles and moose, it really does lend itself to being one of the loveliest and accessible hiking options. With informative signs dotted along the route, you can be sure to learn as you go, which is great if you are hiking with children, or if you simply want to learn more about the area. In the fall, lush greenery gives way to beautiful oranges and yellows–so it's a great place to embrace autumn, too.
The Tin Cup Hiker Trail (Central Idaho)
Leading to the Alice Toxaway Loop, this trail through the Sawtooth National Recreation Area and the Sawtooth Wilderness Area provides beautiful scenery and ample opportunities to spot wildlife and capture great fall photos. You'll also get the chance to see picturesque lakes and several mountain peaks.
It's a great trail for camping or day hikes, and the trail is well-maintained and easy to follow–so great for those who are new to hiking.
It's worth noting that there are some creek crossings. You can usually rock hop, but be sure to take a change of shoes and spare warm clothes if you are visiting in the fall–in case of any accidental slips!
If you're in this area, be sure to also check out Sawtooth Lake, Bridal Veil Falls, and Fishhook Creek.
The Mineral Ridge National Recreation Trail (North Idaho)
Providing breathtaking views over Lake Coeur d'Alene, this trail is very popular with hikers. November through January, it's great for spotting bald eagles who are hungrily lured to the area thanks to the Kokanee Salmon.
This invigorating trail is well-maintained and well-marked, which makes it easy to follow. It is also a great hiking option for those wanting to embark on a gentler route whilst still reaping the rewards of great views and abundant wildlife. There are benches for resting and recuperating, and plenty of photography opportunities if you are hoping to capture evidence of fall in all its glory.
The Pioneer Cabin Trail (Central Idaho)
If you are after something more challenging, then look no further. The Pioneer Cabin Trail is not a trail for the faint of heart. It usually takes between four and five hours to complete, and is a popular route to discover spectacular and dramatic views of the Pioneer Mountains. And at the top you will also find the historic ski cabin which was built by the Sun Valley Company in 1938.
Due to the arduous climb, it's advisable to ensure you wear good walking boots, dress in layers, and take plenty of water.
The Lochsa Down River Trail (North Idaho)
This point-to-point hiking trail follows the Lochsa River, a rough and white-water-filled river known for providing great opportunities for white-water sports.
This hike is definitely on the longer side and takes about eight hours to Fish Butte. It's also one of the quieter trails, which means that you are almost certainly guaranteed solitude on your hike.
The river's name means rough water, and so you can probably already imagine the incredible sounds of rushing water that will accompany you on this hike. Visiting in the fall means autumnal hues and fresh crisp air–but do be careful of the water, it's cold and hazardous.
The Scotchman Peak Trail (North Idaho)
This challenging out-and-back trail involves climbing through the forest on an eight-mile hike to the peak, so it's a wonderful place to really drink in all of those wonderful autumnal colors.
The magnificent views only get better as the route continues, offering stunning views of a wonderful mountainous landscape and Lake Pend Oreille to the southwest, the largest lake in Idaho.
The jagged summit and surrounding ridges are home to many mountain goats. It is important to note that these goats should not be approached or fed.
With 3,600 feet of elevation gain, and no water source on route, please remember to wear suitable attire and take plenty to eat and drink.
The Idaho Centennial Trail (North to South Idaho)
This 900-mile north-to-south trail is only for the most avid of hikers and backpackers. This hiking route is for the experienced and prepared.
Those who brave the full length of the trail will encounter no less than eleven national forests, different types of terrain, spectacular views, caves, hot springs, abandoned cabins and so much more.
The Idaho Centennial Trail is one of the lesser ventured long distance trails in the world and few people have completed the entire trail. It's important to carry out ample research before attempting this trail.
We hope this has inspired you to explore the countless hiking opportunities in and around Idaho Falls. Exercise really is the best medicine.
And don't forget, if you encounter any injuries, or you want to prepare for ski season, get in touch and we will be able and happy to help!