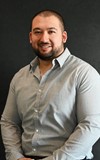 Professional Training:
Noah Bernal, PA-C
Education:
Master of Physician Assistant Studies: West Liberty University, 2020

Master of Science, Applied Exercise Science: Concordia University – Chicago, 2017

Bachelor of Science, Exercise Physiology: Brigham Young University - Idaho, 2015
I was born and raised on the island of Oahu, Hawaii, and trans-located to Idaho in 2011. However, my easygoing personality has blended well into being an "Idahoan," and I consider Idaho to be my home. I moved to Idaho after serving a two-year mission for the LDS church in Fortaleza, Brazil. Good health care was not readily accessible in my mission, and I saw people suffering from horrible diseases without proper treatment. Witnessing what I did in Brazil for two years was really where I started considering a career in medicine. When I returned from my mission I attended BYU-Idaho, where I met my beautiful wife. We got married in 2011 and ever since then she has been my biggest support. In 2015, I obtained my bachelors degree in exercise physiology, and then continued my education by attending Concordia University for a masters degree in Applied Exercise Science.
I've always been passionate about health and exercise, which was the main reason that I focused my undergraduate and graduate education in that field. Once I competed both degrees I began working as a personal trainer at Mountain View Hospital, which I found to be very rewarding. However, I started feeling that I wanted to take what I had learned and move into a more healthcare focused area of work. Thus, I attended West Liberty University in West Virginia where I obtained my second masters degree in Physician Assistant Studies.
I'm thrilled and blessed to be working with Dr. Vlach and Dr. Cooper at Rocky Mountain Spine & Sport. I'm extremely passionate about Physiatry, and I have a strong background in exercise science, so I feel excited to be working here. When I'm not "nerding" out over human movement, I enjoy weight training and spending time with my two boys.