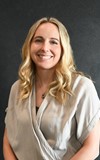 Professional Training:
K'Lynda Snarr, PA-C
Education:
Master of Physician Assistant Studies, University of Utah, 2014

Bachelor of Science, Nursing, Brigham Young University-Idaho, 2008
Associations & Continuing Medical Education:
NCCPA Certified Physician Assistant

American Academy of Physician Assistants
Born in California but raised in Idaho, I've always identified myself as an "Idahoan". I grew up in the country surrounded by barley and potato fields. It was here I quickly developed a love for Idaho summers. Often, I could be found sitting on the front porch soaking in the sounds and smells of the countryside, watching the lightning of summer thunderstorms, or gazing at the sunset on a horizon that would stretch for miles.
My family was very health driven. They believed in healthy eating, herbal supplements, and using natural remedies for life's minor ailments. My mother had what we nicknamed the "Green Book", and in it was every herb for every ailment imaginable. Growing up in a home that nurtured the idea of health, my interests and childhood aligned for me to pursue a career in the healthcare field. I wanted to help people, and I wanted to find the best way to do so. Unsure what direction I wanted to pursue in healthcare, my father suggested that I consider nursing. It was a very broad field that would allow me to explore very many different avenues of healthcare. I agreed, and after my first year of college, I was accepted into the very competitive registered nurse (RN) program at Brigham Young University - Idaho.
After completing my associate's degree in nursing, I began to work as an RN, and later on, earned my Bachelors of Science in Nursing. I worked in St. George, UT at an inpatient physical therapy facility that worked mainly with orthopedic, stroke, and other patients that required extensive therapy rehabilitation. I worked closely with the therapists, doctors, physician assistants (PA), and other members of the healthcare team.
As I gained experience, I began to feel myself gravitate to a career as a PA. I liked how knowledgeable they were about their specialty, how closely they worked with the doctors, and how approachable they were! As nurses, if we needed something done, and done quickly, we would call the PAs. We knew that the PA was readily available, would provide exceptional care for our patient, and if the problem-at-hand was out of the PA's scope, that we could trust that the PA would immediately seek the doctor's involvement to help address the concern. I began to recognize and appreciate the PA's role as an integral player in providing my patients with timely and excellent care, and I decided that I wanted to become a PA myself.
After additional schooling, I applied to PA school and was accepted into the University of Utah's School of Medicine PA program. I felt very humbled to be accepted to the U of U as their PA program was ranked 2nd in the nation by US News.
After graduating with my Master's in Physician Assistant Studies, I became board certified by the National Certifying Commission for Physician Assistants. I began working at a clinic treating musculoskeletal conditions. After 2 years, transitioning to Rocky Mountain Spine & Sport was a natural fit. My experience as an RN working at an inpatient physical therapy rehab complements the extensive training and experience I have as a PA. My passion to help improve the lives of my patients continues to grow, and my dedication to finding the best way how is just as strong as ever.