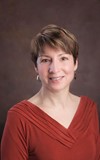 Dr. Judy Gooch, Avid Outdoors Enthusiast
For many years she has competed in alpine ski racing. She also loves to bike and hike in the beautiful western mountains.
Learn more about Dr. Gooch and her evolving treatments to help patients improve after brain injuries and other neurological conditions.
Professional Training:
Dr. Judy Gooch
Education:
Undergraduate: Northern Michigan University

Medical School: University of Michigan

Residency: Physical Medicine and Rehabilitation, University of Michigan
Certifications:
Board Certified Physical Medicine and Rehabilitation

Board Certified Pediatric Rehabilitation Medicine

Board Certified American Board of Electrodiagnostic Medicine
Professional Memberships:
American Academy of Physical Medicine and Rehabilitation

American Academy of Cerebral Palsy and Developmental Medicine
I grew up in Michigan and learned to ski as a young child. In spite of Michigan's short icy hills, I loved it. At age 12 my Dad took me skiing in Colorado and I fell in love with the mountains. As we rode home I watched the mountains recede through the back window; as I did so I knew I would one day live in the west.
I went to undergraduate school in the frigid, yet beautiful upper peninsula of Michigan (of course to race on the ski team). In addition to skiing, I met a PM&R (Physical Medicine and Rehabilitation) physician, Mike Coyne. As I watched him help people with quadriplegia and strokes, do nerve tests, and work with athletes, I knew PM&R was for me. I really enjoyed the creativity, innovation, and diversity PM&R offers in helping people live life.
I completed medical school and PM&R residency at the University of Michigan. After completing residency, I applied for a job at the University of Utah. It was late November when the PM&R department chairman drove me up the canyon and parked the car at the Alta ski area. I took the job immediately. Actually, the rehabilitation program looked great too, but my love for skiing made the decision easier.
For over 30 years, I have worked with children and adults with neurologic conditions. The foundation of my practice is helping patients find ways to use brain plasticity to improve their function.
For 26 years I worked at the University of Utah. I was a professor, doing research, teaching, and treating patients. I was also the medical director of the Rehabilitation Service at Primary Children's Hospital. In 2012 I began a private practice called Utah Neuro Rehabilitation. In addition, I ski raced with Park City Masters program for many years. I also hiked and biked.
I started coming to Idaho Falls in 1989 to treat patients at the Health Department. More recently, I have had the great fortune to work at the Rocky Mountain Spine & Sport.
Working in the field of PM&R and helping people better move, talk, think, function and live life has been a profound privilege.