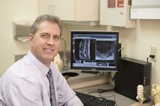 Professional Training:
Dr. Eric Walker
Eric D. Walker, M.D. is originally from Idaho Falls. He was a multi-sport athlete and honor student at Idaho Falls High School. He attended Idaho State University and was a quarterback on the football team for two years. He then transferred to Brigham Young University, where he completed his undergraduate education, graduating cum laude with a B.S. degree in Zoology. While at BYU, he also pitched on the baseball team and was a defensive back for one year on the football team.
Dr. Walker then attended medical school, at the University of Washington in Seattle. He completed his residency in Physical Medicine and Rehabilitation at the Mayo Clinic in Rochester, Minnesota. While at the Mayo Clinic, he was trained as an expert in the non-surgical management of musculoskeletal, and neurologic conditions. He is board certified in Physical Medicine and Rehabilitation.
After medical school and residency, Dr. Walker chose to return to his native Idaho Falls, to practice alongside his brother, Gary Walker, M.D. He and his wife, Karen, have raised five beautiful children here in Idaho Falls. Over the years, he has coached his children and many youth in the community on multiple football, basketball, baseball and softball teams. He has been a volunteer team doctor for many high school sports teams and continues to work as a team doctor for the Idaho Falls Chukars professional baseball team.
Dr. Walker served a mission for the Church of Jesus Christ of Latter-day Saints in Venezuela and continues to speak fluent Spanish.