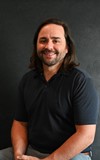 Professional Training:
Dr. Andrew Cooper
Education:
Undergraduate: BYU - Idaho

Medical School: Arizona College of Osteopathic Medicine

Residency: Michigan State University
I was born in Rexburg and raised in Idaho Falls, where I attended Idaho Falls High School. Throughout my life I have enjoyed participating in sports of a wide variety from football, baseball, and golf to water skiing and snowboarding.
After returning from an LDS mission in Australia, I enrolled at nearby BYU-Idaho. There I earned a bachelor's degree in business administration. I had long aspired to go into the financial world and eventually do some consulting. It wasn't until I entered my senior year of college that it became obvious that medicine was the path that I needed to follow. My father encouraged me to take a look at what I really wanted and he helped me to see the reward of assisting others with their ailments was my real passion.
I attended medical school at Arizona College of Osteopathic Medicine in Glendale, Arizona and then continued to Lansing, Michigan for residency training at Michigan State University. As a "weekend warrior" athlete, I have always had an interest in human anatomy and how small alterations in it can lead to massive functional changes. Naturally, this lead me to the field of Physical Medicine and Rehabilitation, where I have had the joy of working with patients to restore functional abilities, giving them more freedom to enjoy day-to-day life.
Although I loved the thrill of working closely with Division-I college athletes, the West is home to my wife and I. This led me to accept a fellowship opportunity with Southwest Spine and Sports in Scottsdale, Arizona. While there I had the privilege of honing my skills alongside some of the most well-respected interventionists in the western states.
As wonderful as the Arizona weather is, it became more and more evident that Southeast Idaho is where we needed to be. When the opportunity arose to return to Idaho Falls it was too much to resist, and now we find ourselves back in the shadows of the Rocky Mountains. It's the perfect place to raise our four children with the same principles that we were so lucky to enjoy in our childhood.
I look forward to continuing to provide top-of-the-line treatment to my patients in the Snake River Valley. I have had extensive training in the treatment of a wide variety of limitations that include spasticity secondary to neurologic issues, sports injuries and concussions, and non-surgical treatment of peripheral nerve and joint injuries. My goal as a physician is to continue to assist in the restoration of function to anyone that feels physical limitations and allow them to enjoy their life to the fullest capacity.